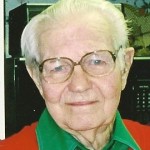 Walter W. Forshee, Sr., 91, of Livonia, passed away peacefully Saturday, January 30, 2010, with his loving wife at his side. He was born in Whitney Point, NY February 17, 1918 son of Jesse and Carolyn Watts Forshee.
Walter will be remembered by all as a caring, competent, independent and hardworking man, an example to all who knew him. He graduated from Cornell University in 1942 and worked in agriculture related fields all his life. He valued education and made sure his children were given the opportunity to attend college. He was a man of faith, courage and high moral standards. He lived his life by example and to the end, examined his decisions carefully. He loved reading, baseball, working, friends and travel.
He is survived by his wife, Vesta; children and step-children, Walter, Jr. (Marian) Forshee, Suzanne (Richard) Zitrick, Sharon Forshee, Elizabeth (Ralph) Arena, Wayne (Cindy) Forshee, David (Val) Forshee, Carol (Doug) Acomb, Greg Shay, Lance and Sue Shay. 20 grandchildren, 10 great grandchildren. Nieces and nephews. Predeceased by all the Forshee brothers and sisters.
Friends are invited to attend services Friday, February 5, 2010, 4 PM at Kevin W. Dougherty Funeral Home, Inc. Routes 15 & 20A, 21 Big Tree Street, Livonia. Private Burial, Canaseraga Cemetery. Memorial contributions may be made to your favorite charity. To send condolences or share a memory please visit: www.doughertyfuneralhomes.com