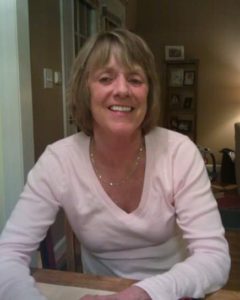 Livonia: January 31, 2018 at age 75. Predeceased by her parents Herman and Betty Frederick. Survived by children; Karen Crusoe, Kevin Crusoe, Christine Crusoe-Countryman, and John Crusoe; grandchildren; Nicholas Robinson, Chelsey Crusoe, Madison Crusoe, Ella Countryman, Thomas Countryman, Sophia Crusoe, and Joseph Crusoe; and sister Janet Brown. Also survived by niece and nephew, Cathy and Mike, many friends, and her four legged companion, Scarlett.
Mary Sue played an integral role in the development of the trauma unit at Rochester General Hospital and was a devoted emergency room nurse at RGH for many years. In addition to touching the lives of so many in the city, after retirement Mary Sue continued to devote her time to serving those in need by working at Noyes After Hours Care Center in Geneseo. She enjoyed spending her free time time in the kitchen baking and cooking dishes that crossed many cultural lines. Mary Sue was also an avid gardener who could be found tending her flowers, vegetables, and herbs in the summer months. "Gonga", or "Bonga", as she was affectionately called by her grandchildren, was known for also having the "best Halloween candy on Washington Street–the really good stuff!" She will be missed.
Save the date, Sunday March 4th, to celebrate Mary Sue Crusoe's 75 years of life! Please come join her children and their families at 28 Washington Street in Livonia, New York to share your fondest memories, enjoy some of her favorite dishes, and listen to some of her favorite musical artists! Feel free to share favorite photos of her as well. It would be an honor to Mary Sue, her children, and grandchildren if those who knew her would stop in at any time between 1:00 pm and 6:00 pm and stay as long as you are able or would like. An RSVP via call, text or Facebook message to Karen, Kevin, Chris, or John would be appreciated, but is not necessary. We hope to see you there!
Memorial contributions may be made in Mary Sue's memory to the Teresa House, 21 Highland Road, Geneseo, NY 14454. To send a condolence or share a memory please visit: www.doughertyfuneralhomes.com