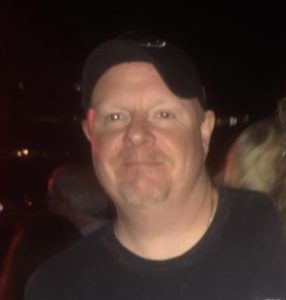 Livonia:  Unexpectedly on November 2, 2017 at age 48.   Predeceased by his mother Eunice (Danks) Brown, aunt Rose Hulsizer, grandmother-in-law Helen Kwasigroch, and father-in-law Terence Connors.  Jack is survived by his wife of 16 years Kristen (Connors) Brown and their daughter Alana "Lanie" Brown; his father Jack E. Brown Sr.; and best friend David (Lisa) Frazer.  Also survived by his uncle Harold Hulsizer, cousin Tammy Kellerson, sister-in-law Sue (John) Bowman, mother-in-law Rose Mary Connors, many aunts, uncles, nieces, nephews, cousins, and dear friends.  His best lap cat Sam and his dog Scarlett.
Jack served his country in the US Navy from 1989-1993, earned his Doctorate in Pharmacy from the Philadelphia College of Pharmacy & Science, his Masters of Science in Epidemiology from Dartmouth College, and was the Department Chair of Pharmacy Practice at St. John Fisher College.
Jack was born in North Rose NY and attended North Rose Wolcott schools. He entered the military where his passion to become a pharmacist began to grow. While serving in the Navy he was a corpsman at Camp Lejeune and on the USS Comfort.  Jack met Kristen on New Year's Eve, a few short days after leaving the service. Six weeks later his car was stolen while they were at Irondequoit Mall and as they say the rest was history…
In 1996 Jack and Kristen were engaged to be married and moved to Philadelphia where he pursued his formal education to be Pharmacist. They experienced many adventures in the big city and loved living near the Art Museum.
In 2001 Jack and Kristen tied the knot on May 5th in Syracuse, NY.  Jack was accepted into Pharmacy Residency at The Ohio State University. He completed a general practice residency and then specialized in Infectious Diseases. He developed lifelong friends from his resident class and had amazing mentors in Drs. Deborah Goff and Jerry Siegel.
In 2003 after completing training, another mark on the map was made in New Hampshire. Six amazing years of memories were made there, including the blessing of the birth of our Alana Rose. We made many friends who remain a part of our dearest and closets friends today. Jack worked in both the hospital and industry settings and began to make a name for himself in the area of Infectious Diseases.
In 2012 Jack found a special family at St John Fisher College in Rochester, NY. He loved his students, mentoring, and molding the Pharmacists of the future. He modeled his life as one of faith and service. He truly loved what he did.
In addition, Jack loved spending time with his wife and daughter, his pets, rooting for his beloved Buffalo Bills, and Ohio State Buckeyes. On many Saturdays and Sundays in the fall our family was found with family and friends rooting for our teams. Jack enjoyed time on Conesus Lake, riding his Harley motorcycle, and his new favorite sport…boxing.  He made an amazing steak chili, cheese quesadillas, and loved a good beer or glass of red wine. He liked to read about history especially the history of Pharmacy. He was a family man who loved his girls.
Kristen and Lanie will miss him dearly.
Friends may call on Tuesday, November 7th, from 4-7pm at the Kevin W. Dougherty Funeral Home Inc., 21 Big Tree Street, Rte 15 & 20A, Livonia, NY.  Jack's Funeral Mass will be held on Wednesday, November 8th, 10:30am at St. Matthew Catholic Church, 6591 Richmond Mills Road, Rte 20A, Livonia, NY.  Interment will be held privately, military honors will be held at the church following Jack's Mass.  In lieu of flowers memorial contributions may be made to The Alana Brown Education Fund, C/O John Haugh, Five Star Bank, PO Box 579, Lakeville, NY 14480.  To send a condolence or share a memory please visit:  www.doughertyfuneralhomes.com