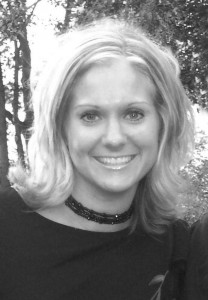 Caledonia: June 1, 2010 at age 30 years after a courageous fight with cancer. Survived by husband, Michael C. Bartgis and son Tyler Bartgis. Parents Thomas and Mary Lynne Seifert and brother Timothy Seifert.
Cathy was a graduate of Caledonia-Mumford School continuing her education at Genesee Community College and Roberts Wesleyan College where received her bachelors in Business Administration. She was an employee of Paychex working in the human resources department. She married Michael Bartgis and they had their son Tyler who is now five years old.
While attending college she worked part time at the gym and became very active in physical fitness. Even after being diagnosed with cancer she ran many marathons and kept herself busy. She loved to run, bicycle,, workout, and spend time with her family and friends. She was truly optomistic and always thinking of others besides herself. She loved animals and being outdoors. She lived for her family, Mike and Tyler, everyday…..they were the highlight of her life. She was a voice and advocate for cancer awareness. She attended many seminars regarding her illness….she tried to be an inspiration to others! She spent many hours in Chemo treatment at the Pluta Cancer Center. The family wishes to extend sincere thanks and appreciation for all the tender care and loving compassion given to Cathy. Also thanks are extended to Dr. Brian Yirinec and nurse Gail who took great care of her.
Cathy was always supported by her husband Michael, son Tyler, her parents Tom and Mary Lynne, and brother Tim. She loved to be a Aunt to her nephew Brayden. Cathy had many friends that were with her all along including Carley Smith, Kada Donaghue, McKenzie Mueller, Dale Phillips, Angelique Vallot, Dawn Hasermas, and many others.
Family and friends are invited to a memorial service on Saturday, June 5, 2010, 2PM at the First Presbyterian Church, 3080 West Main St., Caledonia. Rev. Nancy Joiner Reinert and Dr. Marsha O'Brian will be the celebrants. In lieu of flowers donations may be made to the Tyler Bartgis Educational Fund, c/o Carley Smith, 113 Parkway Dr., N. Chili, NY 14514. To send a condolence or further information please visit: www.doughertyfuneralhomes.com
Never give up…
The challenges of today teach us the lessons of tomorrow…
Never give up on your dreams!