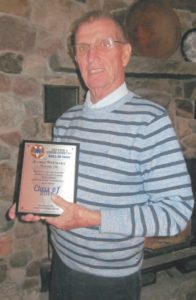 Conesus: Jim passed away peacefully on Monday, February 12, 2018 at age 79, surrounded by his family. Predeceased by his parents Jim and Marion (Waden) Stewart, brother Larry Stewart, and his sisters Arlene Nowack and Carol Gouthro. Survived by his wife of 54 years, Barbara (Rankin) Stewart; children, Dave (Chrissy), Bob (Monica), Patty (Chris) Genthner; grandchildren, Molly, Hayley, Kelsey, Robbie, Lucas, Tom, Nathan, Jillian, and Natalie; sisters, Diane Stewart and Donna (Gene) Morsch, sister-in-law Dotty Stewart, and Aunt Esther Sharpe. Also survived by nieces and nephews, cousins, and many dear friends.
Jim taught in Dansville for 31 years and also coached the cross country team for 26 years. He will be remembered for his kindness to others, his calm demeanor and his love of his family and friends.
Jim was a member of the Conesus United Church for over 50 years, served in the US Navy from June 1957 until January 1962, served as a Conesus Fire Commissioner for 21 years, and was the Conesus Zoning Inspector for many years. He was elected to the Section V Cross Country Hall of Fame for coaching and was also inducted into the Dansville Central School Hall of Fame. He loved to watch his children and grandchildren play sports, loved the Buffalo Bills, the New York Yankees, and Syracuse Basketball. He was a score keeper for the Wayland-Cohocton Softball Team for 25 years and was the time keeper for the Honeoye Cross Country Team. Jim also enjoyed to work at the Hemlock Fair in the sawmill, liked hunting, working in the barn, and enjoyed nature.
Friends may call on Sunday, February 18th, from 4-7pm at the Kevin W. Dougherty Funeral Home Inc., 21 Big Tree Street, Rte 15 & 20A, Livonia, NY. A Celebration of Life Service will be held on Monday, February 19th, 11am at the United Methodist Church of Livonia, 21 Summers Street, Livonia, NY. Burial Arnold Cemetery, Conesus, NY with military honors. In lieu of flowers memorial contributions may be made to the James Stewart Memorial Scholarship, C/O Barb Stewart, PO Box 224, Conesus, NY 14435 or Honor Flight Rochester, PO Box 23581, Rochester, NY 14692. To send a condolence or share a memory please visit: www.doughertyfuneralhomes.com