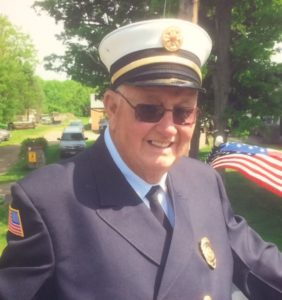 Honeoye: Harold Aubrey Hayward, age 80, lovingly known as "Papa" or "Pappy", passed away peacefully on Wednesday, Jan. 31, with family members by his side.
He spent most of his life in the Honeoye Community and lived the last years of his life on Honeoye Lake with his beloved wife of 34 years, Patricia Stenner Hayward, who spent every day with him and cared for him dearly until he passed.
Harold is also survived by his first wife, dear friend, and "coach", Margaret Green White, and his children: Janet Hayward, Gloria (William) Corrigan, Michael Hayward, Margot (Peter) Badger, Todd (Debi) Hayward, Tobi (Rik) Pfenninger, and Wendy Christ; grandchildren Gregory (Cydney), Kevin, Megan (Kelsey), Ethan, Matthew, Paige, Kaleb, and Lauren; and great-grandchildren Grayson and Morgan.
Harold was born on March 27, 1937 to Aubrey and Leta (Bentley) Hayward in Canandaigua, NY and was raised in Canadice, NY. He was a lifelong member of the Honeoye United Church of Christ and a 62-year member of the Richmond Fire Department. Harold was also a member of Masonic Lodge #619, Lakeville FD Exempts Club, Honeoye Fish & Game Club, and was past president of NCVFA.
Harold attended Honeoye Central School and served as Director of Transportation at Honeoye Schools for 34 years. He was the Ontario County Deputy Fire Coordinator for 25 years and was a lifelong farmer, working at many area farms including Old Fort Farm and Randi B. Farm.
Harold loved nothing more than spending time with his family, including all his children, grandchildren and great grandchildren. He was surrounded by many friends who he considered to be part of the family. In the summer he enjoyed taking his family and friends on regular boat rides on the lake.
Special thanks to the nurses and staff at Elm Manor Nursing Home who provided loving care for Harold in the final months of his life.
Friends may call on Thursday, Feb. 8 from 2-4 and 7-9 pm at the Kevin W. Dougherty Funeral Home, 8624 Main St., Rte. 20A, Honeoye. Harold's funeral service will be held on Friday, Feb. 9 at 11 am at the Honeoye United Church of Christ, 8758 Main St., Rte. 20A, Honeoye. A private burial will be held at a later date. In lieu of flowers please direct donations to the Richmond Fire Department Ambulance Fund, P.O. Box 469. To send a condolence or share a memory please visit: www.doughertyfuneralhomes.com