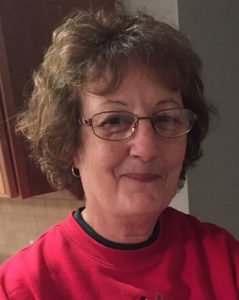 Conesus/Rochester: Peacefully at home on December 24, 2017, at age 76, surrounded by her family. Predeceased by her parents Clayton and Mary Massare. Survived by her husband of 54 years Robert Weinhart of Conesus; and children Mary Kay (John) Riola, Robert (Reagan) Weinhart, Richard (Linda) Weinhart, and Jami Weinhart (Stephen Klueber); Grandchildren Stacey (Vu) Tran, Steven and Shannon Riola, Baden Klueber, Talia, Isabelle, and Alexandra Weinhart; great-granddaughter Angelina Tran. Also survived by siblings Judy Massare (Gautam Mitra), Clayton J. Massare, Patricia Bass, Michael (Helen) Massare, and Anna Mullens; brother-in-law James (Sharilyn) Weinhart; sister-in-law Diana Blum; and Aunt Olga Riff. Many nieces, nephews, cousins, and dear friends. The family would like to extend their deep appreciation for the kindness and care provided to Fran by the Livingston County Hospice nurses especially Laurie and Moira.
Fran was a loving daughter, sister, wife, mother and grandmother. She would do anything for anyone and would never put herself first, no matter what the circumstance was. She always worried about other people's feelings before her own.
She worked full time after graduating in 1959 from Benjamin Franklin High School (Rochester). After marrying Bob in 1963, she devoted her time to her family. Fran loved participating in activities, especially those involving her children. When they attended Holy Apostles School, she was very active in the church and school. She helped with "Bingo Night" at the school at least twice a month. Fran also enjoyed participating in the "Mother's Club" at the school, where she had many friends. When her daughter was in Girl Scouts, she became a Girl Scout Leader and remained a leader for many years. She also enjoyed bowling on Thursday nights at Holy Family School. When her first grandchildren arrived, Fran was the main babysitter for more than 10 years so her daughter could work.
Fran was very creative and had many hobbies. She was good at everything she did. Fran was a great artist and loved to draw, an interest that began in high school. Fran enjoyed knitting, crocheting and sewing. She could make ANYTHING. She made beautiful sweaters and hats for her children and grandchildren that will be cherished forever. Fran took pride in all of her gardens and always looked forward to the spring and summer months so she could work on them. Fran was a snowbird and starting in September, as the gardens began to fade, she would be counting down the days until she would be going back to Florida.
Friends may call at the Arndt Funeral Home, 1118 Long Pond Road (South of Maiden Lane), Greece, NY on Tuesday, January 2nd, from 4-7pm. Fran's Funeral Mass will be held on Wednesday, January 3rd, 11am at St. Matthew Catholic Church, 6591 Richmond Mills Road, Rte 20A, Livonia, NY. Burial St. Joseph's Cemetery, Wayland. In lieu of flowers memorial contributions may be made in her memory to the Livingston County Hospice, 2 Murray Hill Drive, Mt. Morris, NY 14510. To send a condolence or share a memory please visit: www.doughertyfuneralhomes.com