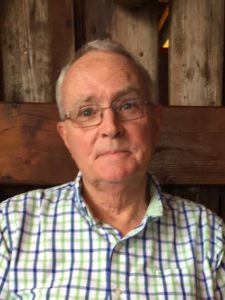 Livonia: Dennis Charles Miller died suddenly on December 20, 2017 at age 74. He is survived by his wife of forty-eight years, Nancy Miller of Livonia; son Thomas Miller of Rochester; brothers Michael (Daphne) of Elk Grove, CA and Mark (Cheryl) of Abilene, KS; sister Judith (James) Chapman of Coatesville, PA; sister-in-law Carol English of Wellsville; several nieces and nephews; and many special friends in the Livonia and Avon communities. He was predeceased by his sister Constance Bartlett.
Dennis was born in Dallastown, PA, the son of Charles and Stella (Bialczak) Miller. After graduating from St. Bernard's High School in Bradford, PA in 1961, he immediately enlisted in the United States Navy, with assignments in Naples, Italy and on the USS Forrestal. He then attended SUNY Fredonia, earning his BA degree in 1968. Dennis began teaching and had a thirty-four year career as an English Teacher at Livonia Central School before retiring in 2003. Dennis was an active member of Central Presbyterian Church in Avon and enjoyed golf, pickleball, camping, other outdoor activities, researching family history, and traveling the world with his family.
Friends may call on Thursday, December 28 from 4-7 p.m. at the Kevin W. Dougherty Funeral Home Inc., 21 Big Tree Street, Livonia, NY. A memorial service will be held on Friday, December 29 at 11 a.m. at Central Presbyterian Church, 133 Genesee Street, Avon, NY 14414. Memorial contributions may be made to Central Presbyterian Church at the address above. To send a condolence or share a memory, please visit: www.doughertyfuneralhomes.com.