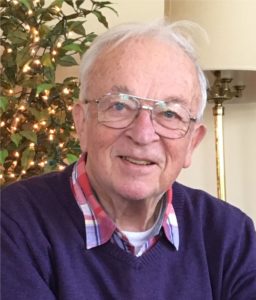 Livonia: Beloved Fred passed away suddenly at the age of 81 on Tuesday, November 7, 2017.  Fred will be greatly missed by his family and friends.
Survived by loving wife and best friend, Nadia, daughter Elizabeth Henderson (Dave), sons Chris (Theresa), Don (Kim), and sister, Natalie Castle (predeceased by George). Chief is also survived by his grandchildren Kathryn Gardner, Shannon Gardner, Heather Henderson, Bret Henderson, Lauren Gardner, and Julia Gardner.
Fred was a proud veteran of the US Army with rank of Captain. Dr. Gardner was a Full Professor at RIT and Associate Dean of the College of Continuing Education. In 1988, he received the distinguished Eisenhart Award for Outstanding Teaching. Following retirement from RIT Fred worked as Case Manager for Livingston County Counseling Services. He also authored numerous articles, a book on volunteerism and served as a longtime member of the Livonia School Board.
A Celebration of Fred's Life will be held at the Kevin W. Dougherty Funeral Home Inc., 21 Big Tree Street, Rte 15 & 20A, Livonia, NY on Saturday, November 11th from 11am-12:30pm, where services will be held following calling hours at 12:30pm. In lieu of flowers we ask that everyone consider volunteering or donating to a local charity.  To send a condolence or share a memory please visit:  www.doughertyfuneralhomes.com
Calling Hours – Celebration of Life Gathering:  11am-12:30pm
Service – 12:30pm