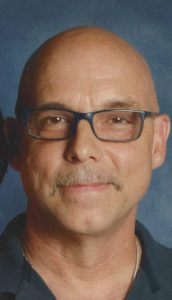 Livonia:   Unexpectedly on October 31, 2017 at age 58 years.  Survived by his wife of 38 years Joan (Roberts) Brent of Livonia and children; Michael (Donna) Brent of Wayland and Jenna (Zachary) Beason of KS; grandchildren, Xaiden & Axel Brent and Jackson & Leah Beason; and his mother Carole Brent Williams of Livonia.  Also survived by his godson August, cousins, and many dear friends.
Scott was born on June 16, 1959 in Harrisburg, Pennsylvania and married his high school sweetheart, Joan Roberts Brent, on June 16, 1979.  Scott served his country in the US Air Force from 1979-1987.  He was a loving husband, father, grampy, son, and friend.  He always said if he could make someone smile it was a good day.  He loved the Lord and was a member at the United Methodist Church of Livonia.
"Life should not be a journey to the grave with the intention of arriving safely in a pretty and well preserved body, but rather to skid in broadside in a cloud of smoke, thoroughly used up, totally worn out, and loudly proclaiming "Wow! What a Ride!"  Quoted by Hunter S. Thompson.
Scott's Memorial Service will be held on Friday, November 10, 2017 at 11am at the United Methodist Church of Livonia, 21 Summers Street, Livonia, NY 14487.  Interment will be held privately.  In lieu of flowers memorial contributions may be made in Scott's memory to the United Methodist Church of Livonia at the address above.  To send a condolence or share a memory please visit:
www.doughertyfuneralhomes.com