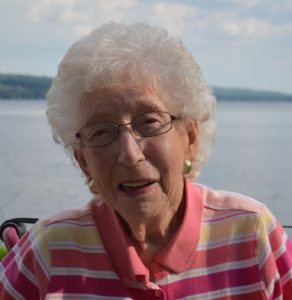 Lakeville:  Carolyn Emery Allen, age 97, of Lakeville, passed away October 14th in San Antonio, Texas, where she spent much of her recent years to be near to children and grandchildren.
She was predeceased by her husband Floyd Allen, brother Robert Emery and sister Kathryn Ramsey.
She is survived by her children, Thomas, Lisa, and Laurie Allen, all of San Antonio, Texas; Earl (Inge) Allen of Cornville, Arizona, Faye Reamore of Leroy, and her exchange student daughter Martha (Alberto) Leal de Guizar of Mexico City, Mexico; sister Ruth Sidorowicz of Las Vegas, Nevada, and brothers Richard (Roma) Emery of Morrisville, North Carolina  and James (Sandi) Emery of Summerville, South Carolina; 8 grandchildren, Novella, Nol, Christofer, Travis, Joel, Tim, Kelly, and Kurt; over 20 great-grandchildren, and many nieces and nephews.
Born in Rochester, New York July 22, 1920, Carolyn was valedictorian of the Livonia High School class of 1937, attended the Mildred Elley Business School in Albany, and worked for the Webster's Crossing and Lakeville milk processing plants, Stone Construction, the Philip J. Sweeney Insurance Agency, and retired from civil service at the State University at Geneseo.  She married and raised 5 children, was the eldest member of her beloved Lakeville United Church of Christ, and traveled extensively in her retirement.
Calling hours will be from 4pm to 7pm Friday, October 27th at the Kevin W. Dougherty Funeral Home Inc., 21 Big Tree Street, Rte 15 & 20A, Livonia, NY.  A funeral service will be held at 10:30am Saturday, October 28th at the Lakeville United Church of Christ, 5687 Big Tree Road, Lakeville, NY 14480.  Interment will follow at Mount Pleasant Cemetery, Lakeville Road, Geneseo.  In lieu of flowers, donations may be made to the Lakeville United Church of Christ, at the address above, or the Alzheimer's Association.  To send a condolence or share a memory please visit:  www.doughertyfuneralhomes.com