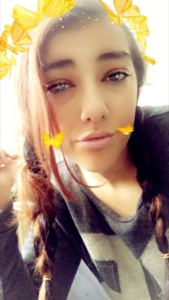 Livonia/Clifton Springs: Unexpectedly on July 14, 2017 at age 14. Predeceased by her grandparents Barbara Clapp and Joseph Petrillo. Survived by her parents Carl Petrillo (Dianna Perez) of Livonia and Jennifer Clapp (Matthew Manaco) of Clifton Springs; siblings, Elizabeth and Carl T. Petrillo; grandparents, Heidi Galligan, Edward McManus, and Roger Clapp. Also survived by step brothers & sisters, many aunts, uncles, cousins, and friends.
Emma was born April 28th, 2003 in Dansville NY, to Carl Petrillo and Jennifer Clapp. She loved her older sister, Lizzie Petrillo. She loved her younger brother, Carl Petrillo.  She was loved by all of her family and so many friends.  She attended Livonia and Midlakes School Districts.
Emma was full of life and affection for all those surrounding her, she was the life of the party, adventurous, curious and always getting into everything. Emma loved listening to music, dancing and singing with the voice of an angel.  All that knew her could see her love of photography in all the selfies she would take.  Emma loved nature, animals, being outside, enjoyed camping and campfires, but she also loved to shop, do her hair, and wear makeup.  She was a very caring person who loved to help others.    When she entered a room, the smile on her face would light up the whole room.  Whatever Emma was doing, she lived her life to the fullest.
Friends may call on Wednesday, July 19th, from 4-8pm at St. Matthew Catholic Church, 6591 Richmond Mills Road, Rte 20A, Livonia, NY, where Emmaleigh's funeral service will be held on Thursday, July 20th, at 10:30am. Private burial White Haven Memorial Park, Pittsford, NY. Memorial contributions may be made to Make-A-Wish/Western NY, 3025 Monroe Ave, Suite 200, Rochester, NY 14618. To send a condolence or share a memory please visit:
www.doughertyfuneralhomes.com
*** A candle light vigil will be held Tuesday, July 18th at 7:30 in Vitale Park, Lakeville, NY. ***