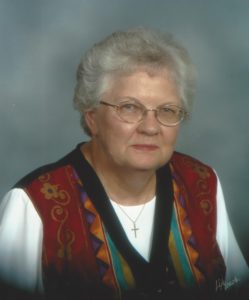 Livonia: Laurel passed away at Teresa House on July 12, 2017, after a courageous battle with cancer and complications of Parkinson's. She was predeceased by parents, James and Viola Parsons; sister, Phyllis Gorwaiz; brothers, James, Myron, & Gerald Parsons; nephews, Michael Joy, Charles Spross, & Robert Parsons. Survived by sisters, Marcia and Lynette Parsons of Livonia, Evelyn Spross of Newark, NY, & Sybil Joy of Dansville, NY. Nieces, Elaine, Kathleen, Cynthia, Sherry, Cheryl & Marcia. Nephews, Edward, Adrian, Jeffrey, James, & Brian. Several great & great, great nieces & nephews.
Laurel was born to James & Viola Parsons on March 9, 1933. She grew up in the Village of Conesus where she attended a two room school house through eighth grade. She went to high school in Livonia where she graduated in 1950. Laurel was employed at Champion Products and worked there for 45 years.
Laurel was a member of Lakeville United Church of Christ. For many years she served as a Deacon and sang in the choir. She also worked on committees and helped at fundraisers and receptions at the church.
She enjoyed sewing and, especially, knitting. She made afghans, lap robes, scarves, sweaters and mittens. Many of the sweaters and afghans had designs or pictures on them. Over the years she knit several mittens for the church's mitten tree. These mittens were given to those in need.
Laurel was blessed with the "gift of wit". She was well known for her humor and "one-liners". She spread laughter and joy wherever she went. She will be deeply missed by her family and many friends.
Friends may call Friday, July 21, 2017 from 4 – 7 PM at the Kevin W. Dougherty Funeral Home, Inc., 21 Big Tree St., Routes 15 & 20A, Livonia. Funeral services Saturday, July 22, 2017, 11 AM at the Lakeville United Church of Christ, Route 20A, Lakeville. Burial, Arnold Cemetery, Conesus. Memorial contributions to Lakeville United Church of Christ Steeple Fund, 5687 Big Tree Rd., Lakeville, NY 14480, Teresa House, 21 Highland Rd., Geneseo, NY 14454 or Livonia Ambulance, PO Box 8, Livonia, NY 14487. To send condolences, please visit: www.doughertyfuneralhomes.com