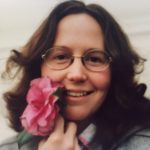 Geneseo: Peacefully at the Teresa House on May 18, 2017 Karyn entered into glory at age 62 with her sister by her side. Predeceased by her parents James and Lorraine (Dube) Stewart and her nephew Benjamin Waterman. Survived by her children Shayna Schapp (Jonah Lamers) of the Netherlands, Nathan Schapp (Caitlin Moseley) of Canandaigua, Evan (Jasmine) Schapp of Naples; grandchildren Edi and Carter Schapp; siblings Glenn (Lisa) Stewart of Mendon, Pamela (Dan) Waterman of Livonia, Laurie Stewart of Penfield and Jon (Stephanie) Stewart of Penfield. She is also survived by several nieces and nephews, two great-nieces and a great-nephew.
Karyn was born on February 7, 1955 in Cheyenne, Wyoming where her father was stationed in the Air Force. Her family moved to Rochester, New York when her father was hired by Eastman Kodak Company. Karyn helped raise her four brothers and sisters and loved working with children so much she earned a degree in Early Childhood Education. She was a counselor at two Christian camps for children and worked in several day care centers.
Karyn was a strong woman of faith, she loved Jesus and gained strength every day by reading her bible. She often showed acts of kindness to strangers in grocery stores, restaurants and anywhere else she met people. She wrote notes of encouragement and kindness to family, friends and people she barely knew and decorated them with stickers. She loved dancing and would often dance to loud music in her apartment. Karyn spent many of her waking hours praying for others and gave to many charitable organizations who provide for children living in third world countries. Although she had many struggles throughout the years, she always remained strong in her faith and looked forward to the day she would meet Jesus, the source of her strength. We rejoice that she has been made whole and will live eternally in Heaven.
Friends may call on Monday, May 22 from 12noon-2pm at the Kevin W. Dougherty Funeral Home, 21 Big Tree Street, Rte 15 & 20A, Livonia, NY, where a funeral service will be held following the calling hours at 2pm. A celebration of life gathering will be held following the service at Faith Fellowship Church, 5630 Pebble Beach Road, Lakeville, NY 14480. Memorial contributions can be made in her memory to Feed the Children, PO Box 36, Oklahoma City, OK 73101-0036 www.feedthechildren.org. To send a condolence please visit: www.doughertyfuneralhomes.com