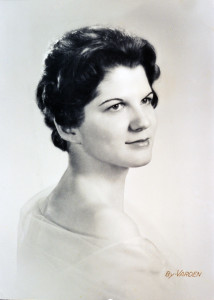 Rebecca Y. M. (Becky) Barnhoorn, 78, of Honeoye, beloved mother, grandmother and great-grandmother, passed away peacefully, March 31, 2017 at F.F. Thompson Hospital, Canandaigua.
Born on February 19, 1939 in Bath, NY, as Laura Jane Wilson, she was given up for adoption by her natural parents, the late Orin and Helen Jane (Williams) Wilson, when she was 8 months old. On August 26, 1940, she was formally adopted by the late Robert and Isabel (Snay) Wilcox of Bath, and her name was legally changed to Rebecca Yvonne Wilcox. She later added Mary to her given name.
During her youth in Bath, Rebecca went to Haverling Central School. She was active in the Girls Scouts, and the Centenary Methodist Youth Fellowship, participating in the choir and as a pianist.
Because of a lack of love by her adoptive mother, Rebecca left the Wilcox home. She lived her late teen years in foster homes in New York City, Hornell and Rochester. She completed her education at Nazareth Academy in Rochester, graduating in 1959.
On November 5, 1960, Rebecca married Bart Joseph Barnhoorn at the Church of the Blessed Sacrament in Rochester; Bart predeceased her on May 3, 1996. Rebecca worked as a nursing assistant at St. Ann's Nursing Home, Rochester; Elm Manor Nursing Home, Canandaigua; Honeoye Lake Home for Adults; and Sisters of St. Joseph's Infirmary, Rochester. She also provided private duty in-home nursing care.
In the 1970s, Becky served as a member of the Committee for the Handicapped at Honeoye Central School. She also was an organist at the former St. Michael's Church, Livonia Center.
On December 17, 1990, after over half century of separation, Rebecca was united with her biological brother Paul Douglas Watkins. The reunion was made possible by the persistent research of Rebecca's son, Stephen.
In addition to her biological parents and husband, she was predeceased by her brother and sister-in-law, Paul and Shirley Watkins, paternal half-sister, Thelma Jennie Wilson, and niece Colleen Jane Watkins.
Rebecca will be sorely missed by five children, Michael J. Barnhoorn of Honeoye Falls, Daniel J. (Andrea) Barnhoorn of Scottsville, Stephen A. Barnhoorn of Honeoye, Bart J. Barnhoorn of Lima, and Toni (James) Sloan of Bloomfield; five grandchildren, Nickki Lee Barnhoorn, Lydia Anne Guthrie, USA Sgt. Suzanne W. Barnhoorn-Beardslee, Elliott J. Guthrie, and Christopher W. Barnhoorn; great-grandson, Elijiah Joseph Perrin; many nieces and nephews.
A memorial service will be held on Saturday, April 8, 2017, 10:30 AM at St. Mary's Church in Honeoye, Father Hoan Dinh, officiating. Interment at St. Mary's Cemetery, Honeoye. In lieu of flowers, contributions may be made in Rebecca's memory to the Richmond Fire Department, 4830 County Rd. 36, P.O. Box 469, Honeoye, NY 14471. Arrangements by Kevin W. Dougherty Funeral Home Inc. To send a condolence please visit: www.doughertyfuneralhomes.com