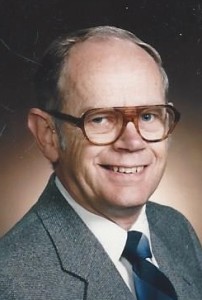 Livonia: Went to be with the Lord on March 2, 2017 at age 90 years. Survived by his wife of 66 years, Coyla Larson and children; Karen Ursel of Conesus, Deborah (Noel) Cisneros of WI, Eric (Sarah) Larson of MN, and John (Jane) Larson of Corning; 11 grandchildren, 13 great-grandchildren, and his sisters; Marilyn (David) Noreen, Margaret (Bob) Maitlen, and Suzie (Buddy) Waterman. Also survived by many nieces, nephews, cousins, and dear friends.
George was born in Lake City, MN on February 18th, 1927. He lived on the family farm in Stockholm, WI until 1936, when the family moved to Lafayette, IN. He served his country in the US Navy at Great Lakes Naval Station in 1945-46, then attended Purdue University, where he earned his degree in Chemistry, and met his wife, Coyla. They married in 1950, the year he also started his career with Kodak.
George and Coyla developed a productive garden on their land in Livonia, where they retired in 1986. Never one to be idle, George promptly started the next chapter of his life, serving as a lay minister and dedicated member of the Pleasant Valley Baptist Church in Geneseo, NY. George loved his wife and children, and over the years cherished many special times with his grandchildren and great-grandchildren. He will be remembered as a faithful servant to his family and to his God.
A Memorial Service will be held on Saturday, March 11th, at 4pm at the Pleasant Valley Baptist Church, 4631 Lakeville Road, Geneseo, NY 14454. Interment will be held privately. In lieu of flowers memorial contributions may be made in George's memory to the Pleasant Valley Baptist Church at the address above. To send a condolence or share a memory please visit: www.doughertyfuneralhomes.com