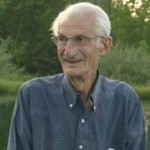 James R. Richards, 88 years, of Federal Road, Hemlock, NY died Friday January 2010 at his home. Predeceased by children, Lance and Joan Richards. Survived by his wife of 68 years, Faye; children, Reg Richards of Jamestown, Ann (Howard) Warren of Schroon Lake NY, Sandra (David) Copeland of Kirkwood, NY, Michael Richards of Conesus, Lorna (Richard) Roberts of Conesus, David Richards of Hemlock, Joyce (Jim) Smith of Rush, Ronald Richards of Holley, Sybil (Dan) Buckley of Brighton, Sylvia (Pat) McGuire of Texas, Vicki (Michael) Halsted of SC and Kay Richards of Antwerp, NY. 46 grandchildren, 37 great grandchildren. sister, Margaret Clark of FL, sister-in-law and brother-in-law, Sylvia and Bryan Symonds of London. several nieces and nephews.
Jim was born in South Wales, where he began a career in coal mining at the age of 14. At 20 years of age he married his childhood sweetheart Faye Jones and soon after, started a family. After the birth of their fourth child, Jim & Faye decided to immigrate to America. Jim arrived in West Virginia six months ahead of Fay and the kids. The family continued to grow, eventually reaching twelve children in all. Jim changed professions after 14 years in mining moving into highway construction, working his way up over the years to head superintendent. This career move took the family across the Northeast, with stops in Lee MA, Massena NY, Niagara Falls NY, Deposit NY, Edwards NY, Schroon Lake NY, Vestal NY, and Bath NY.
In the mid seventies Jim, Faye and the Family moved to their current homestead in the Livonia Hemlock area. The children of course have all long since struck out on their own, with Jim and Faye concentrating their efforts on community service and support. Meals on Wheels, Dog Census, Grange, with Jim serving as the President of the local Senior Citizens group and Treasurer of the Hemlock Fire Department for over a dozen year, the entire community grew to know and love Jim and Faye.
Jim and Faye came to America to build a better life for themselves and their children. By any measure, this dream has been realized. We know that the entire community joins with the family in celebrating his life.
Friends may call Monday, 2-4, 7-9 PM at Kevin W. Dougherty Funeral Home, Inc. Routes 15 & 20A, 21 Big Tree St. Livonia where funeral services will be held Tuesday at 11 AM. Burial, Union Cemetery. Memorial contributions may be made to the Hemlock Fire Dept. 7375 Al Sharpe Ave. Hemlock, NY 14466. To send condolences or share a memory, please visit: www.doughertyfuneralhomes.com