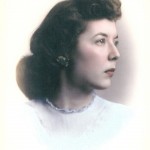 LEICESTER – Phyllis Arend (Knebel) passed away at Strong Memorial Hospital with family at her side, on March 8, 2013, at the age of 84.
Phyllis is predeceased by her husband Milton Arend, two sisters, Lucille Wilson and Arlene Kretchmer, along with her brother, Robert Knebel.
Phyllis is lovingly remembered by her daughter, Gail (William) Garland of Poway, California; her son, Tracey (Teresa) Arend of Leicester, New York; her brother, Gerard (Nici) Knebel; her sister, Beverly (Tony) Fuierer; her three grandchildren, Meaghan, Kaitlin, and Collin; two great-grandchildren, Cailey and Nicky; many nieces and nephews.
Phyllis was born in Rochester, New York in 1928. She graduated from Madison High School. She started working right out of high school. While working for the telephone company as an operator, she met her future husband at a company party which he crashed just to meet her. Phyllis and Milton were married in August of 1949. They started off their married life living in Henrietta. A few years later they moved to Webster, where they raised their two children, Gail and Tracey.
While the children were growing, Phyllis worked part time for various retail establishments, as well as School Pictures. At School Pictures, she used her talent as an artist to touch up the photographs of many school children.
After the children were grown and making their own way in the world, Phyllis worked for Eastman Kodak Company at the Elmgrove location. After retiring from Kodak, Milton and Phyllis moved to San Diego, California to live near their daughter and her family. She lived in San Diego for 18 years, before returning to upstate New York to be near family. She lived at the Morgan Apartments in Geneseo for 8 years, prior to recently moving in with her son and daughter-in-law after a long illness.
A memorial mass to celebrate her life will be held on Monday, April 1, 2013 at 11:00 a.m. at St. Patrick's Catholic Church, 115 Maple Avenue, Victor, N.Y. 14564. In lieu of flowers, memorials may be made to Livingston County Health Department, Attn: Home Care, 2 Murray Hill, Mt. Morris, NY 14510 or Strong Memorial Hospital, Attn: Palliative Care Unit, 601 Elmwood Ave, Rochester, NY 14642. Arrangements entrusted to the Kevin W. Dougherty Funeral Home Inc., Livonia – Honeoye.