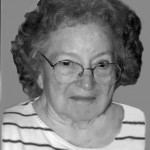 Hemlock: Amanda B. "Mandy" Hanna, 89 years of Hemlock, NY died Wednesday evening, June 22, 2011 at the Livingston County Center for Nursing and Rehabilitation in Mount Morris, NY where she had resided for the past 4 1/2 years. She was born in Baltimore, MD., April 20, 1922, the daughter of Gilbert and Lydia Gellert Bresnick. She worked for Livingston County in the Probation Department under the late Dean Harrison and also as a stenographer in the court system, prior to graduating with her degree from SUNY at Geneseo. For one year she taught 3rd grade at the former Hemlock School and then joined the Livonia Central School District where she taught 4th grade for 33 years prior to retirement in 1987. She was a member of the Livonia United Methodist Church and was predeceased by her husband of 59 1/2 years, Chester W. Hanna, in 2001.
She is survived by her children, Carol (Gary) Parisella of Livonia, Patricia (Neal) Nehrbass of Livonia and Mark (Nancy) Hanna of East Aurora. 4 grandchildren, Eric, (Meghan), Jonathan, (Lauren Marie), and Lauren Sil Hanna, and Matthew Parisella. Great-grandchild, Addison Marie Hanna. Several nieces and nephews.
Mandy had such an impact on so many lives. She was a devoted wife of 59 1/2 years, loving mother, inspiring teacher, and terrific cook. Her caring ways and unique personality will be remembered well.
The family would like to extend a most sincere "thank you" to the staff, residents, and families at the Livingston County Center for Nursing and Rehabilitation in Mt. Morris.
The family will receive friends Saturday, July 2, 2011 from 2 – 3 PM at the Livonia United Methodist Church, 21 Summers St. Livonia, NY 14487, where services will follow visitation at 3 PM. Friends wishing may make memorial contributions to the Livonia United Methodist Church, PO Box 23, Livonia, NY 14487. Arrangements entrusted to the Kevin W. Dougherty Funeral Home, Inc. Livonia – Honeoye. To send condolences, share a memory, or further information, please visit: www.doughertyfuneralhomes.com