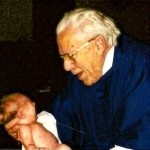 Livonia: Father Jerome Schifferli, "Pop", Pastor Emeritus, St. Matthew Church, Livonia went home to God on Saturday November 20, 2010 at his home in Livonia, at age 91.
Father Schifferli was born in 1919, grew up in St. Andrew's Parish, attended St. Andrew School and St. Andrew's and St. Bernard's Seminaries, all in Rochester. He was ordained to the priesthood on March 17, 1945 by Bishop James E. Kearney at Sacred Heart Cathedral. Father was assisstant pastor of St. Michael Parish, Rochester (1945-53), and of St. Mary Parish, Rochester (1953-61). He then became chaplain of Elmira Correctional Facility and Reception Center (1961-72). In 1972 he was appointed pastor of St. Joseph Parish, Livonia, St. Margaret on the Lake Parish, on Conesus Lake, and St. William Parish, Conesus, which was a mission of St. Joseph Parish. Retired in 1989, he continued to live and minister in Livonia where he was currently Pastor Emeritus at St. Matthew Parish in Livonia.
Father Schifferli is predeceased by parents Leo and Clara; sisters, Clare (Robert) Wheeler, Grace (Earl) Gunn, Constance (Arthur) Principe, Helen (Joseph) Crough; and brother, Leo (Helen) Schifferli. Father is survived by his cherished brother Roger (Patricia) Schifferli of Massachusetts and by many dear and loving nieces and nephews, grand nieces and grand nephews and great-grand nieces and nephews. Father made his home with his goddaughter Chris (Tony) Coniglio and family, where he was affectionately known as "Pop", so named by his Miss Emma when she was too small to call him Father. Indeed there are many other families who were "family by faith abd by heart" with whom he ministered and loved as his own. He was truly our "grandfather" priest, much loved, and will be greatly missed.
Father will Lie in State on Tuesday, November 23 from 2:30-6:30PM at St. Matthew Church, 6591 Richmond Mills Rd. Livonia with Evening Prayer at 6:30PM. Father will again Lie in State from 9:30-10:30AM on Wednesday with his Funeral Liturgy at 10:30AM with Bishop Matthew H. Clark presiding. Burial, St. Michael's Cemetery. Arrangements entrusted to Kevin W. Dougherty Funeral Home, Inc., Livonia-Honeoye. Friends wishing may make memorial contributions to St. Matthew Church Building Fund, PO Box 77 Livonia, NY 14487. To send condolences or share a memory, please visit:
www.doughertyfuneralhomes.com