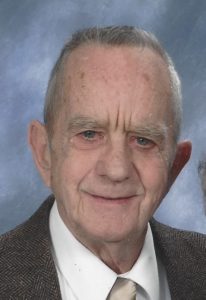 Honeoye: Ed was born May 22, 1931 to Theodore & Anna Loux and died peacefully on June 27, 2017 at age 86 years. Predeceased by his sister Ellen Beatty. Survived by his wife of 60 years, Rita (Farron) Loux, his daughter Karen (Mark) Goddard and son John (Cathy) Loux; grandchildren, James and Michael Goddard, Jennifer Loux, and Ryan (Marty) Ringelberg; 2 great-granddaughters, Avery and Emilie. Also survived by sisters-in-law Jean D'Angelo and Lois Aquino, brother-in-law Joseph Farron, and many nieces & nephews. Ed was a veteran of the US Army serving in the Korean Conflict, was a retiree of Eastman Kodak, and was very active in the Honeoye Community including service in the Richmond Fire Department, the Honeoye-Hemlock American Legion, and was the Richmond Town Justice for over 40 years.
Ed moved to Honeoye in 1961. It was here that he and his wife, Rita, fixed up the old farmhouse on West Lake Road that he called "home" until his passing
Besides his service with the local fire department and ambulance squad, Ed worked for 4 years delivering "meals on wheels" to many local seniors. He was always willing to help out his community and is probably best known as "Judge Loux". It was in this capacity that he was revered for his effort to treat each and every defendant fairly and respectfully.
In his spare time, Ed enjoyed woodworking. Some of his creations include the podium at St. Mary's Church of which he was a member. The beautiful pieces of furniture that he made for his family will be forever treasured including the cradles that he made when his grandchildren were born.
Friends may call on Thursday, June 29th, from 4-7pm at the Kevin W. Dougherty Funeral Home Inc., 8624 Main Street (Rte 20A), Honeoye, NY. Ed's Funeral Mass will be held on Friday, June 30th, at 11am at St. Mary's Catholic Church, 8961 Main Street, Honeoye, NY. Burial St. Mary's Cemetery, Honeoye, with military honors. Memorial contributions may be made in his memory to the Richmond Ambulance, PO Box 469, Honeoye, NY 14471. To send a condolence and for further information please visit: www.doughertyfuneralhomes.com