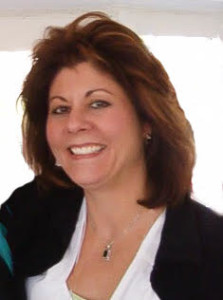 Honeoye: April 29, 2016 at age 57 years. Survived by her partner of 28 years, Rick Lentz; her parents, Richard and Patricia Philipson; and siblings, Michael Philipson (Jesse Sutterlin), Thomas Philipson, Judith Philipson-Raffard (Scott Green), and Ricky Philipson. Also survived by her in-laws; Allen & Carmen Lentz; honorary brothers; Lewis & Thomas Stess-Johnston & Jon Raffard; many nieces & nephews; and other extended family & dear friends.
Born in Rochester, New York, Chrisann grew up in Ionia, and attended Bloomfield Central School and then CCFL, where she earned an Associate's Degree. Through the years, she worked in various bookkeeping and support positions, including a stint in Washington as Assistant to Maureen Reagan. She also took on a part-time role, tending bar for many years at Mendon's Cottage Hotel –offering her hearty laugh and ready smile to all.
But Chrisann was never really defined by what she did to earn a living. Rather, she will be remembered for her courage, her selflessness, and her zest for life. She supported countless other women struggling with breast cancer, even as she herself became more ill. She leaves us in awe of her gentle spirit, her compassion for others, and her ever-present grace under unthinkable odds. Hers was a life meant to give valuable lessons in how we might live our own. She loved her partner, Rick, her family and her friends – all deeply. Her "little star" shines on.
According to her wishes, A Celebration of Life will be held on Saturday, May 7th, at 11am, at the West Bloomfield Congregational Church, 9035 Rte 5 & 20, West Bloomfield, NY. Rev. Corey Keyes will be the celebrant. In lieu of flowers memorial contributions may be made to Sands Cancer Center, 360 Parrish Street #101, Canandaigua, NY 14424. To send a condolence please visit: www.doughertyfuneralhomes.com