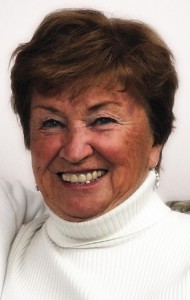 Joan M. "Grammie Joan" Barrett of Avon, December 31, 2013, at age 80. Survived by her loving husband of 62 years, Arthur; her daughters: Patricia Webb, Connie (Tom Moran) Ryan, Linda (Tom) Freeman, Sandy (Jim) Schillinger and Betsy (Lyle) Findlay; sons: Bill(Maria) Barrett, Jim(Patti) Barrett, Chris (Heidi) Barrett. Grandchildren: Robbie(Carrianne) Coyne, Peter(Becky Anderson) Ryan, Ashley(Steve) Comeau, Jessica(Adam) Soucy, Tommy(Katherine) Freeman, Brandon(Joelle)Freeman; Chad, Justin and Ali Schillinger; Taryn Webb; Olivia and Lucas Findlay; Fallon, Chris, Marissa, Anna, Julia, Nicholas and Evan Barrett. Great-Grandchildren: Abigail and Brayden Coyne; Jack and Owen Johnston; Barrett and Cameron Comeau; Finnegan Soucy ; her cousin Marty Stowell; many nieces and nephews. She is also survived by her beloved dogs Dee-Dee and Zoey. Predeceased by daughters: Sharon, Victoria and Judith Barrett; Brothers: Milo and Kenneth and Sisters: Marion and Marjorie.
Joan was born in Rochester, NY and earned her Bachelor's Degree in Business Administration from RIT. She worked at RIT for 25 years, and retired as the Associate Director of Admissions in 1998.
In addition to raising a large family, Joan spent countless hours sewing dresses for proms, weddings and other special occasions as well as costumes for Halloween. Each birthday brought a unique cake for every child. Joan created a strong family community for all. She was a proud supporter of all of her grandchildren's endeavors. She will be missed by all of those whose lives she touched.
Friends may call Friday from 4 to 7 p.m. at Kevin W. Dougherty Funeral Home, 21 Big Tree Street, Routes 15 and 20A, Livonia. Services will be held on Saturday at 11 a.m. at St. Agnes Church, Avon, NY. Burial will be held privately at the convenience of the family.
In lieu of flowers, contributions can be made to Golisano Children's Hospital, 300 East River Road, PO Box 278996, Rochester, NY 14627. To send condolences, visit: www.doughertyfuneralhomes.com