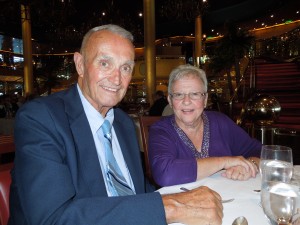 James "Jim" H. Hanna, a lifelong resident of Avon, passed peacefully away on May 28, 2013, surrounded by his loving wife of 48 years, Betty Anne (nee O'Brien), and his children. Jim was born on April 3rd, 1940, and graduated from Avon Central School.
Jim was a third-generation farmer, working side by side with his father on the family farm in South Avon all of his life. He was devoted to his parents, Agnes and Hamilton Hanna, and to the farm.
Jim was a shy, unassuming observer of his surroundings. He rarely spoke, but he always knew more about what was happening around him than those who spoke more. When he spoke, his humor and gentle laugh quickly put those around him at ease.
Predeceased by his sister, Mary Wess, Jim is survived by his wife, Betty Anne, four children, Lisa (Bill) Dean of Avon, Tim Hanna of Avon, Molly (Gardner) Low of Avon, and Jennifer (Rob) Simonetti of Pittsford. Jim has eight much loved grandchildren, Alex and Max Dean; Ethan, McKenzie and Aydan Low; Lucas, Colby, and Maya Simonetti. Jim also has three sisters, Joyce (Don) Polle of Lima, Peggy Gunther of Avon, Joan (Bob) Madigan of Honeoye and many nieces and nephews.
Friends are invited to attend his Memorial Service, Saturday at 1 PM at the First Presbyterian Church of East Avon, Routes 5 & 20, East Avon. In lieu of flowers, memorial contributions may be made to the Palliative Care Unit at Strong, 601 Elmwood Ave., Rochester, NY 14642.
Arrangements entrusted to Kevin W. Dougherty Funeral Home, Inc. Livonia – Honeoye. To send condolences visit: www.doughertyfuneralhomes.com