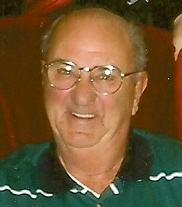 Conesus Lake: A wonderful man, father, and grandfather was called home on July 30, 2012 at age 86 years. Predeceased by his wife Norma Stiler in 2004. Survived by his children; Gary (Carol Pancner) Stiler of Yucaipa, CA, Ruth (Charlie) Frumusa of Geneseo, and Lisa (Pat) O'Connor of Livonia. Grandchildren; Molly and Casey O'Connor both of Livonia.
Al, his brother Bob and his three sisters (Betty, Martha and Marie) grew up in Rochester's 19th Ward. Their parents, Joseph and Pauline, sent the kids to St. Monica's and then on to local high schools. During the Great Depression the family trekked across the country to run a chicken farm owned by a member of Pauline's family near Sacramento, CA. As the story's been told, young Al rode in the back of his Dad's Ford across the plains and prairie. Soon after their arrival a storm destroyed the farm and the family moved back to Rochester. In 1941 Al went to Aquinas H.S. where he played football and began to think about his future.
When big brother Bob joined the Army Air Force in 1942, Al also wanted to be part of the war effort but at 17 was too young to enlist. After considerable family discussions, Al's parents signed the permission papers that allowed him to enlist in the US Navy. Al was sent to the Sampson Training Base on Seneca Lake and then on to Ordinance School for more specialized training. Within a year of enlisting, Al sailed beneath the Golden Gate Bridge on the USS Saratoga bound for the western Pacific.
The Saratoga saw intense action near Iwo Jima with Seaman 1st Class Stiler serving on the fantail gunnery crew as well as with the topside firefighting team. After suffering the loss of over 100 members of her crew to kamikazes and bombs, the Sara limped back to the West Coast for repairs. Al served on the Saratoga until 1946 when he returned to Rochester.
Al completed high school and then became certified as an electronics technician under the GI Bill. He was especially attracted the television repair. Al saw TV as the wave of the future. During this time he paled around with his buddy Ronnie Vanderwater. One night when he and Ronnie were out on the town he was introduced to a stunning blond from Nazareth Academy named Norma Vye Joyce. Al and Norma became close friends and then married in 1948. In 1951 Gary was born. Three years later Ruth was born, and three years after that little Lisa came along to complete the family.
In 1957 Al joined the Rochester Fire Department. He spent 28 years as a firefighter and loved the camaraderie and excitement of his job. Al and Norma also started a business during this period. As partners, they operated the Ridge Tube Center for over 20 years. Norma filled in when Al was on fire duty and when Al was off he worked at the Tube Center.
The extra income that Al made from his two jobs allowed he and Norma to buy the 'cottage' on Conesus Lake. Over the years the family spent days and weekends at the cottage. Eventually Al and Norma sold their home in Rochester and moved full time to Conesus Lake. Both enjoyed the tranquility of their lakeside home as well as the opportunity to host gatherings of their extended family at the cottage. The O'Connors, the Lindelows and dear old' 'Nana Banana' (Norma's mom) were frequent guests. Al loved to play golf with Jack and Carol Lindelow, while Norma and Phyllis O'Connor kept the drinks on ice.
Al became a proud grandfather with the birth of Lisa and Pat's daughter Molly, and even prouder when Casey came along a year later. Al loved his grandkids and spent much of his time being the 'best grandfather ever' to the kids. He attended every one of Molly's piano recitals as well as every basketball and football game that Casey ever played. Al was a very loving grandfather – always near, always supportive, kind and patient.
Even in the worst of times Al had a wonderful sense of humor. He had a knack for regaling his grandkids with what they referred to as 'Dadisms'. Some choice examples include…
I'm in good shape for the shape I'm in.
I'm a ding dong daddy from Dumas and you ought ya see me do my stuff.
What a life without a wife.
A Memorial Mass will be held at St. Matthew's Catholic Church, 6591 Richmond Mills Road, Rte 20A, Livonia, on Saturday August 4, 2012 at 10am. Father Larry Gross will be the celebrant. In Lieu of flowers Memorial Contributions may be made to the Livonia Fire Department, PO Box 151, Livonia, NY 14487, the Geneseo Fire Department, 133 Center Street, Geneseo, NY 14454 or to St. Matthew's Church, PO Box 77, Livonia, NY 14487. Arrangements entrusted to the Kevin W. Dougherty Funeral Home, Inc. Livonia & Honeoye. To send a condolence and for further information please visit: www.doughertyfuneralhomes.com