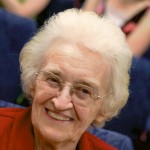 Honeoye: On August 30, 1920, Doris Emma Barnard was born on the family dairy farm in Hemlock, NY. Upon graduating from Hemlock School, she earned her teaching degree from Geneseo College. During WWII, she enlisted in the Army and became a chauffeur in the Washington DC area. After the war, she became the Hemlock Postmistress. Other professions she undertook included: teach, tutor, and school bus driver. On April 20, 1946 Doris married Howard George Werder and became a dairy farmer's wife. They enjoyed 57 years together until Howard fell asleep in death on March 17, 2003.
After studying the Bible for many years, Doris symbolized her dedication to Jehovah God by water baptism on July 8, 1972 at the age of 51. She continued steadfast in her love for Jehovah until her death on March 30, 2012. Her spiritual family also came to know her as a gentle, kind person who displayed a positive attitude in all things. Doris had a strong Bible based conviction that after a time of sleep she will awaken with "flesh fresher than in youth" to a Paradise on earth, to live forever without sickness or pain.
Doris is survived by her children: Donna Wood; Robert Werder and his wife, Maureen; David Werder and his wife, Linda; John Werder and his wife, Judy; eleven grandchildren; thirteen great grandchildren; one sister, Grace Simons; and two sisters-in-law, Jane and Gerry Barnard. Her brother, Howard and Ralph predeceased her.
Doris loved Jehovah God, her husband, her family. She will be missed.
The family extends a very grateful thank you to the Ontario-Yates Hospice for all of the compassion & care given to Doris and her loved ones.
Friends may call Wednesday 3 – 6:30 PM at Kevin W. Dougherty Funeral Home, Briggs St., Honeoye. Services will be held Wednesday evening at 8 PM at Kingdom Hall of Jehovah's Witnesses, 5475 Hopkins St., Canandaigua. Private burial, Union Cemetery, Livonia. To send condolences or more information, please visit: www.doughertyfuneralhomes.com