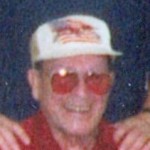 Manchester/Honeoye Lake: December 30, 2011 at age 97 years. Predeceased by his wife Sylvia (Kress) Manfreda in 1999. Also preceded by grandson Sean, and great great grandson Garren. Survived by his Sons; Joseph (Pat) Manfreda of Canadice, John Manfreda of MI, and Robert (Nancy) Manfreda of Livonia. Daughter Joanne (Dave) Sommer of Osceola, MO. 14 grandchildren: Tom, Debbie, Amy, Sharon, Janice, Alana, John, Allison, Michel, Colleen, Renee, Nicki, Todd, Gary, and Lisa. 30 Great-Grandchildren: Cory, Megan, Collin, Nathan, Chad, Christopher, Matthew, Jessica, Aaron, Elissa, Graham, Evan, John C., Jay, Joseph, Jude, Danielle, Eric, Tiffany, Jacob, Blake, Huck, Ally, Haley, Chance, Landon, Thane, Rylan, Camden, Zack, and Kayla. 8 Great-Great Grandchildren: Wesley, Mason, Tobin, Dillon, Gage, Daniel, Jenifer, and April. Special Friend Delores Peets of Manchester, NY. Numerous Nieces and Nephews and many friends.
Born in Rochester, New York of Italian immigrants, John led a full and diverse life before he died at the age of 97.
As a young boy John worked with his dad as a mason's helper. In later years he took employment with Cook's laundry, Paige Airways, Rochester Products, Bausch and Lomb, Wollensak, and Farrells, all in Rochester N.Y. He retired from Farrell's in the mid seventies. During these years John was also self employed as a General Contractor in and around the Honeoye Lake area. Many will remember John as one of the three who developed the north end of Honeoye Lake. Along with Joe Polvina and Tom Laverene, the corporation moved many many tons of dirt transforming the north end of Honeoye Lake into property suitable for house construction. John, along with his sons, built many of the homes on what was once called North Shore Dr.
Mr. Manfreda was working at Paige Airways, Rochester Airport when World War II broke out. Having received his pilots training and license in lieu of wages, he became a member of the Civil Defense team and trained some of our nation's fighter pilots. Under his guidance they learned the basics of flight. He also taught meteorology and attained the rank of Corporal.
A man of varied interests and passions, he mined for gold in Canada in the 1930's, and in the late 20's and 30's he was a motorcycle hill climber. He also at some point tried his hand at racing automobiles, stock cars and boats. He was also musically inclined – knowing how to play the banjo and fiddle, he loved getting together with friends to entertain the neighbors in the Times Union Track during the 1950's.
A Honeoye resident for more than 20 years John was an active member in the Chamber of Commerce. One of the things he took pride in was his involvement in Honeoye's early Winter Carnivals in the 1960's.
Even after retirement, because of his passion for flying, John once again gave of himself as a volunteer to the 1941 H.A.G. (Historical Aircraft Group) and museum of Geneseo, N.Y. Just like his working years his jobs were diverse – from helping to restore historical aircraft — to being principal in creation in the World War II period Pilot's Ready Room.
John Manfreda loved life, meeting its challenges with passion and tenacity. In addition to hard work and giving of his time to others, Mr. Manfreda loved spending time with his family.
Friends may call at the Kevin W. Dougherty Funeral Home Inc., 21 Big Tree Street, Rte 15 & 20a, on Monday from 3-7pm. A graveside service will be held on Tuesday at 10:30am at Whitehaven Memorial Park, Pittsford, NY. To send a condolence and for further information please visit: www.doughertyfuneralhomes.com