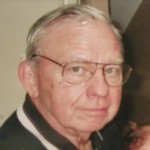 Hemlock: Reginald J. "Roger" Falkowski , age 79, formerly of Wisconsin, passed away on Sunday, October 23, 2011 at Strong Memorial Hospital in Rochester, NY. He was born November 14, 1931 in Elderon, Wisconsin, the son of Joe and Leona (Woytasik) Falkowski. Roger had retired from Dresser-Rand in Corning, N.Y. where he was an attorney. Roger was a graduate of the University of Wisconsin and received his Law Degree from Marquette University Law School in Milwaukee, Wisconsin. He was a US Naval Officer veteran serving from 1953 – 1956 and remained in the Naval Reserves for several years following active duty.
Roger enjoyed boating, fishing, and hunting in his leisure. He spent much of his time reading, researching things of interest to him such as technology and science. He was an avid football fan, especially of the Green Bay Packers.
He was predeceased by his parents, Joseph and Leona Falkowski and brother, Eugene Falkowski of Kansas. Roger is survived by his wife of 54 years, Joyce.Children; Jeffrey (Linda) Falkowski of Hemlock, Paula (Michael) Marinaro of Green Brook, NJ, grandchildren; Corey, Anthony, and Joseph.Sisters; Dr. Marlene Venardos of Mesa, AZ, and Patricia Kasten of Weston, WI.Sisters-in-law, brothers-in-law, nieces, and nephews.
Friends wishing may make memorial contributions to the American Cancer Society, 1400 Winton Road North, Rochester, NY 14609. Arrangements entrusted to Kevin W. Dougherty Funeral Home, Inc., Honeoye-Livonia. To send condolences or for further information please visit:
www.doughertyfuneralhomes.com