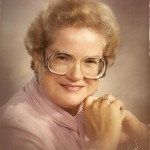 Conesus: Jane Lawrence Mahoney, 75 years, of Cole Road, Conesus, NY died Wednesday morning, August 31, 2011 at Noyes Memorial Hospital in Dansville, NY, where she was admitted the evening before. She was born in Brighton, NY, October 2, 1935 the daughter of Hollis Albert and Mildred Marilla Howitt Lawrence. She was a graduate of Brighton High School, who pursued further studies related to the insurance profession which evenually led to her ownership and operation of the J. M. Agency in Henrietta, NY.After selling her successfull agency, she would work along side her daughter at the former Sikorski Agency in Lakeville as a licensed broker. For a time, she was also employed by West Shurfine in Livonia.
A very disciplined, well motivated women with a high standard of work ethic, she was active in many professional organizations including the Professional Insurance Agents Society, Professional Womens Insurance Agents. She also enjoyed traveling with her husband on their motorcycles, and was a member of the Retread Motorcycle Organzation. She also was a proud member of the NRA. Most of all, she enjoyed spending time, with her husband, children, great grandchildren and great grandson.
Jane is survived by her husband Jerry and five children: Scott (Carol) Muhs of Henrietta, Sandy (Tom) Hennessy of Fort Myers, FL, Kathy (Ted) Sikorski of Conesus, Karen (Charley) Pearson of Union Springs, NY, and Tracy (Keith) Toomey of Cape Coral, FL. 12 Grandchildren: Greg and David Muhs, Steve and Mark Hennessy, Matt and Kris Sikorski, Carly, Ella Jane, and Riky Pearson, Brooke, Nicole, and Kim Toomey. Great Grandson Dillon Gonnelly. Several Nieces and Nephews.
Friends may call Friday, September 2, 2011, from 2 – 4, and 7 – 9 PM at Kevin W. Dougherty Funeral Home, Inc. Routes 15 & 20A, 21 Big Tree St. Livonia, NY where funeral services will be held on Saturday at 11 AM.. Burial, G. Arnold Cemtery, Conesus, NY. Friends wishing may make memorial contributions to the Diabetes Association, 166 Allens Creek Rd. Rochester, NY 14618. To send condolences, share a memory, or further information, please visit:
www.doughertyfuneralhomes.com