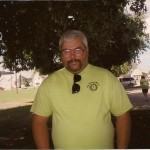 Leroy M. Craft of Conesus, age 49, died Tuesday, December 28, 2010 at home. He was born August 16, 1961 in Torrance, California to parents Lawrence and Lurline Shafer Craft, and raised since infancy by Alex and Jesse Backus.
A graduate of Livonia Central School, Leroy was employed by Hilltop Industries in Mt. Morris. He enjoyed his work, friends and would often be found sitting on the porch with a cup of coffee.
Leroy is survived by his family, Mike (Bonnie) Litteer of Conesus, Bill (Roberta) Litteer of Livonia, John (Gail) Fredericy of Springwater, Shirley (Jim) Wright of Perry; nieces and nephews; and special friend, Regina Hayes of Geneseo.
Friends are invited to a celebration of Leroy's life Saturday, January 8, 2011, 1PM at the Kevin W. Dougherty Funeral Home, Inc., Routes 15 & 20A, 21 Big Tree St., Livonia. Memorial Contributions may be made to Livingston-Wyoming ARC, 18 Main Street, Mt. Morris, NY 14510. To send a condolence or for further information please visit: www.doughertyfuneralhomes.com.